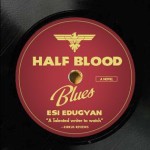 Hi Meltingpot Readers,
So, one of my 2015 resolutions is to read more for pleasure. That sounds crazy coming from someone who loves books like a fat boy loves cake, but as I reviewed 2014, I realized that the majority of what I read was for work. And I do have to read a lot for "work" – books, articles, magazines, student work – to stay on top of things. So, yes, most nights I fall into bed and am asleep in two minutes and I barely have enough time to breathe, but still I promised myself that I would read at least one book a month for pleasure.
I've chosen a great book for starters. It's called Half-Blood Blues by Esi Edugyan. I admit, I first noticed this book because the author's name is very similar to my son's and I wondered if Esi was a man or a woman. Turns out Esi is a beautiful, Black Canadian writer with one other novel and several short stories to her credit. The other reason the book caught my attention was the title, of course. As I'd hoped, the book partially centers on a Mixed Afro-German jazz musician who lived through World War II. Half Blood-Blues alternates between past and present telling the musician's story. I've only just started it but I love it already. I don't want to read too many reviews because I don't want to read with preconceived notions. But I do know the book won and/or was short-listed for many literary prizes.
I totally feel like I hit the jackpot with this one, considering I picked it up because the author's name sounded familiar. The story has everything I love, multicultural characters, history, a European setting and Black Americans heavily represented. Score!
What are you reading this weekend, dear readers? I'm totally listening and taking notes.
Peace!