Hi Meltingpot Readers,
So, I'm back from a week spent in a tiny town in North Carolina where my parents have decided to retire. Yes, all three of their grown children live in Philadelphia and yes, they chose to relocate to North Carolina, but I'm not angry. Yes, I am, but I vowed to let go and let god on that one in 2013.  I'm trying to focus on the positive. Like having a warmer climate to visit during the winter months and being able to experience and explore the southern United States.
I decided to share some of the highlights of my trip this past holiday week through photos. Mind you, I'm not a photographer and I take pictures of weird things. I'm not like normal people who shoot pictures of their kids and pretty sunsets. I like to take pictures in grocery stores. But then, I'm sure if I were normal, you wouldn't bother reading my blog. Right? I mean normal can get boring really fast. So, without further ado, my week in pictures.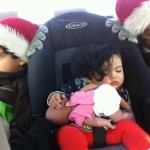 Okay, so in the last one you see the kids, sort of. I guess I lied. Sometimes I do take pictures of my babies. I also realized that all of my photos are food related. Hmmm…
I'm feeling hopeful and optimistic about 2013, dear readers. I hope you are too. My mommy is coming up south for the next two weeks to babysit babygirl so I can write and el esposo can study. Yeah!
What are you excited about for the new year? And what do you like to take pictures of?
I'm listening.
Peace!