Hello Meltingpot Readers,
Today's Black History Month book about Black hair isn't really about Black hair, but Black hair does feature a prominent role in the story, so it counts. The book is Americanah by Chimamanda Ngozi Adichie. I read this book when it first came out in 2013 but I'm reading it again because I assigned it for homework for one of the classes I teach at Temple. And I cannot believe how prominently Black hair and Black hair culture are featured in the story and moreover, how perceptive and precise Adichie is at describing not only the specifics of Black hair styles and hair styling, but the culture surrounding Black hair here in the United States and of course, in Nigeria. Yes, the book is really about two Nigerians and their epic love story that spans years and crosses continents, but don't discount the importance of the hair in all the drama.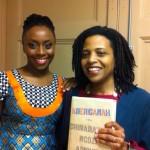 If you haven't read this book yet and you want to read a great story set in modern day that features unique characters and lots of hair stories, you should pick it up. And if you already read it, read it again. I am and I still love it. And FYI, you might want to get the book read before the movie, starring the divine Lupita Nyong'o and the delicious David Oyelowo comes out. You're welcome.
Peace + Hair Grease.