Hello Meltingpot Readers.
It's officially the first day of February which means two very important things; 1) My birthday is only days away and 2) It's the beginning of Black History Month. So much to celebrate in February.
Since it's my birthday month and this is my blog, I've decided to celebrate two of my favorite things in honor of Black history month, books and Black hair. Think of it as a celebration and a challenge. I was partially inspired by that cute little girl, Marley Dias, tired of reading about White boys and dogs who started her own book drive to collect books with Black female protagonists. Here on MyAmericanMeltingpot I'm going to profile a book about Black hair or a book where Black hair plays a prominent role throughout February, which will be Mondays, Wednesdays and Fridays in February. I did the math and that's 13 books I'll be writing about. Sure, Marley Dias collected 1000 books, but this is not a competition people, plus February is a super short month.
Of course the first book I'm profiling is my own, Hair Story: Untangling the Roots of Black Hair in America, not because I think it's the best or the most important, but because I'm in the middle of making dinner right now and my chili is about to boil over, so I have to be quick. (Ms. Meltingpot has to multitask, you know.)
So, without further ado, I present Hair Story, still the only book on the market that tells the complete history of Black hair in American popular culture from 15th century Africa to 2014. We cover the politics, economics and culture of Black hair, from the Civil Rights movement to the Natural Hair movement. It's a great read for ages 13 – 103.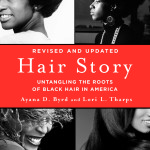 Keep in mind that the books I will be profiling won't all be nonfiction tomes, nor will they only be for adults. In true Meltingpot fashion, I'll be bringing you an eclectic mix of tonsorial tomes that celebrate, titillate and /or investigate the beauty of Black hair.
Peace + Hair Grease!