Hi Meltingpot Readers,
If you have the time, please pop over to Newsworks.org to read my latest parenting column on what it means to be a member of a family with many colors. I will continue to blog over there on Newsworks about these issues in 2016, in anticipation of my new book coming out this fall. By the way, Same Family, Different Colors: Confronting Colorism in America's Diverse Families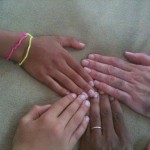 is already available for pre-order! You heard it here first. Thanks for reading as always.
Peace!