Hello Meltingpot Readers,
On this last day of 2015, I thought it only appropriate to reflect. Reflect that is, on what I read this past year. If you recall, one of my New Year's Resolutions was to read more in 2015 because I'd noticed that I'd been reading for work and not for pleasure and reading is one of my greatest joys. And when you realize that you've neglected a simple joy in your life, something has to be done. I wrote in this early 2015 post that I was going to try to read one book a month, and now having compiled my 2015 Reading List, I realized I met that goal.
Here's what I read in 2015 with a mini review/summary. For the most part, you can assume I enjoyed the book enough, if I took the time to read the whole thing. One thing I won't do is read something I dislike. Note: the order is reverse chronological, meaning the first book is what I most recently read in December and goes back to the beginning of the year.
1. YO! by Julia Alvarez. A novel about a struggling Dominican-American writer, told in the various voices of the people who know her best. Funny and touching.
2. Disgruntled by Asali Solomon. The hilarious and heartbreaking coming of age story of a Black girl in Philadelphia whose life begins in an all-Black urban neighborhood and then shifts to the mostly White tony suburbs. A great novel that felt very close to my own life in many ways.
3. The Search for Susu by Tracey M. Lewis-Giggetts & Marcella McCoy-Deh. A novel about a Black female adjunct professor who is offered a rare opportunity to improve her position in the world of academia. Real life drama with a dollop of extra drama for effect.
4. The Cutting Season by Attica Locke. A thrilling murder mystery that melds history and present day life on a Louisiana plantation. After reading this book, I'm definitely going to be reading more by Ms. Locke.
5. Forty Acres by Dwayne Alexander Smith. Another thriller merging past and present. A Black lawyer meets a group of powerful Black men who have a sinister secret that they claim is the key to their power. Disclaimer: I loved the premise of this book but reading the whole thing made me a bit queasy and uncomfortable at times.
Substitute Me by Lori L. Tharps. Yes, I read my own novel. For the first time! And for the first time, I didn't cringe and berate myself for everything I could have done better. It's a good book about what happens when one woman hires another to be her nanny and the nanny does a better job than anyone ever imagined. 2015 actually marked the five-year anniversary of the book's release.
7. Loving Day by Mat Johnson. A fantastic and funny book about a Mixed-Race (Black and White) man who discovers he has a teenage daughter he never knew about. The book tackles the issues of family, race and identity with great skill and insight.
8. The Misadventures of Awkward Black Girl by Issa Rae. Besides discovering that Issa Rae is not her real name, this well-written memoir by up and coming comedian/actress/writer Rae tells her unique story of life as the daughter of an African father and a Black American mother. As expected, it was funny all the way through.
9. Miss Jessie's by Miko Branch with Titi Branch. I admit, I didn't have high hopes for this book. I was really only reading it because I was going to interview Miko Branch at an event. Well, I was pleasantly surprised by not only how well the book was written – I couldn't put it down – but also how much I learned about the sisters who started the trailblazing Miss Jessie's brand of hair products. The book is about so much more than hair, it's about family, following one's passions and the power of possibility. I highly recommend this book for anyone with a entrepreneurial dreams.
10. The Bluest Eye by Toni Morrison. I re-read this book for research for my book on colorism in American families. Even though it was the second or third time I read this classic, it still slapped me in the face with it's searing pain and helplessness.
11. God Help the Child by Toni Morrison. Morrison's latest novel was a slim volume that depicted the tale of a dark-skinned woman in modern times who was rejected by her light-skinned mother. I lapped it up because it portrayed a fictional family dealing with the issues I was writing about in my nonfiction book, Same Family, Different Colors. Thank you, Toni.
12. Queen Sugar by Natalie Baszile. Full disclosure, I didn't love this book about a single mother who moves south to claim a sugar plantation left to her by her deceased father. But I appreciated the unique story and the descriptive writing.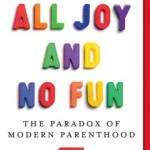 13. All Joy and No Fun by Jennifer Senior. I reviewed this book here. Very informative and easy to read.
14. Half Blood Blues by Esi Edugyen. I loved this book about a group of Black Jazz musicians fleeing Nazi Germany. I reviewed it here.
And there you have it. Ms. Meltingpot's year in review, of books. Clearly with 14 titles I read more than one book per month, so there's one resolution I actually kept. Now, if only I'd been so good with my resolution to start exercising consistently. Oh, well. There's always next year!
Happy New Year, dear readers. What's on your reading list for 2016? I'm totally listening and taking notes.
Peace!