Hello Meltingpot Readers,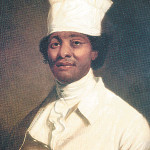 I had one of those driveway moments the other day when I heard this story on NPR. It's about Thomas Jefferson's enslaved chef, James Hemings, yes, the brother of Sally Hemings. James was apparently quite the culinary genius, so much so, that when Jefferson traveled to Paris for a five-year stay, he took James with him so he could learn the art of French cuisine. While there, James lived as a free man, indeed learned the secrets of French cooking and considered a bid for freedom. Check out the story on the NPR site and then tell me if you're not moved.
I'm so happy people are taking the time to tell individual stories about Black people in antebellum America. This is how we restore our humanity and this is how we encourage young people of all colors to recognize the true diversity of the Black experience in America. For example, by sharing James Hemings' story, folks realize that our culinary legacy reaches beyond the limited notions of Aunt Jemima and Uncle Ben. No disrespect to Jemima and Ben, of course, because their contributions to our cultural heritage are significant and dear, but it is high time we expanded the notion of what Black people were doing in America's kitchens before (and after) the Emancipation Proclamation besides stirring up pots of soul food.
Mind you, I love soul food in all its juicy pork goodness, but I also know that Black chefs weren't cooking soul food for their masters. How do I know this, because I read and because it doesn't make sense that White masters were eating slave food. They were eating the delicious creations that their talented, enslaved chefs learned how to make using the fresh, expensive ingredients in the master's kitchen. Hello, James Hemings! Here's another NPR story that will continue this argument, because I have to go make lunch. I'm hungry after writing this post.
I bet you are too. You're welcome.
Peace!
Enjoy!