Hi Meltingpot Readers,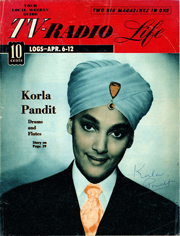 Last week The New Republic posted this fascinating story about the famous Indian singer Korla Pandit. Known as the "Godfather of Exotica," he had his own TV show that ran in the 1950s and had an impressive recording career as well. He was rich, married –to a White woman – and accepted in Hollywood as, well, an acceptable exotic. The only thing was, Korla wasn't what he seemed.
From the New Republic:
" Like most everything in Hollywood, it was all smoke and mirrors. His charade wasn't his stage name—it was his race. Korla Pandit, born John Roland Redd, was a light-skinned black man from St. Louis, Missouri. It was a secret he kept until the day he died."
So, how did he do it dear readers? How did a Black man from Missouri become The Godfather of Exotica? By playing off the cultural ignorance of the American people, of course. All John Roland Redd had to do was slap on a turban and voila, instant Indian. He also invented a fantastic back story and liked to talk about spirituality and peace. What's not to love? Considering the fact that there are a grotesque amount of Americans who still believe our president is a Muslim simply because of his name, it really can't be too hard to fool us as a people. We'll believe anything if it feeds into cultural stereotypes. The truth is, Redd's whole act was one big stereotype, including the turban with the shiny gem he always wore. He claimed to be a Hindu, but Hindu's don't even wear turbans, that's a Sikh custom. But why quibble with details, America?
It really is a fascinating story, especially considering how bold Redd was with his deceit. He wasn't going to quietly pass, he wanted a big life as a musician and this ethnic farce was his way to get it and apparently he played it out until the end. I wonder if he was giving the finger to the world when he drew his last breath? Like, "Suckers, I Got Over!"
There is a new documentary about Korla Pandit, called Korla that I cannot wait to see. I love stories like these because they completely fly in the face of the idea that Black people had no agency in their ability to "beat the system," plus it is another example of how fluid identity is, largely based on skin color and hair texture. Apparently Redd's hair was shiny, black and straight. Do you think he could have pulled this off if he had kinky hair and skin a bit darker? Oh, the possibilities.
So, dear readers, what do you think of Korla Pandit? Do you think Black people knew his secret? Apparently he got itchy around other Indians because clearly they'd be able to smell his lies. Will you be watching the film? Check the trailer and I'll bet you'll want to. I'd love to hear your thoughts.
Peace!