Hello Meltingpot Readers,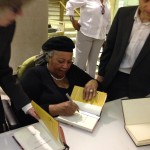 Have any of you read Toni Morrison's new novel, God Help the Child? Not only have I read it, I had the chance to see Ms. Toni give a reading from the book here in Philadelphia and of course got her to sign my book. It was magical getting to meet her in person and to hear about her inspiration and ideas for writing this particular story.

Dear readers, I don't know if you know this, but God Help the Child is all about a dark-skinned Black woman, Bride, who was rejected by her light-skinned mother and how that rejection informed the painful trajectory of her entire life. The book begins:
"It's not my fault. So you can't blame me. I didn't do it and have no idea how it happened. It didn't take more than an hour after they pulled her out from between my legs to realize something was wrong. Really wrong. She was so black she scared me."
That could be the opening to my new book too, Same Family, Different Colors, only it wouldn't be from the mouth of a fictional character, but rather a confessional from a real woman. Bride's story may be a creation of Toni Morrison's imagination, but sadly, mothers reject their children every day, even in the year 2015, because they're too dark or too light. Depends on the circumstances. And, it's not just Black people who exhibit these skin color prejudices. The stories I'm collecting from Latino and Asian-American subjects include the same experiences, with the same language of rejection and despair.
What gives me hope however, is that for every story of parental neglect or sibling jealousies that I am recording, I have another one where shades of skin color difference in the family made no difference. Without giving anything away, God Help the Child ends with hope as well. Toni Morrison isn't the happily ever after type and neither am I, but I think we both see potential for something different from the tragedies of our collective past when it comes to skin color breaking up a family. Maybe our books and the countless other new media projects on this topic will prove to be a catalyst for that change.
What about you, dear readers? Do you come from a family of different colors? Did it make a difference in your upbringing? How? I'm totally listening and taking notes.
Peace!