Hello Meltingpot Readers,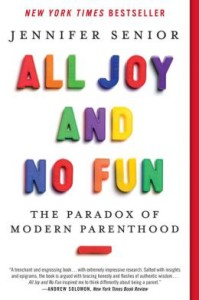 Earlier this year I promised myself I would read more. I'm a writer so reading should be a part of my regular practice, right? Because I like to write both fiction and nonfiction, exploring themes of race, culture, parenting and identity politics, I figured my reading selections should explore these topics and genres as well. So, I picked up Jennifer Senior's (relatively) new book, All Joy and No Fun: The Paradox of Modern Parenting. I assumed reading this book would feel like homework, but I promised myself I'd get through it because, like Brussels Sprouts, smart books are good for me. Lucky for me, this smart book was far from tedious and I enjoyed reading it from beginning to end.
Rather than learn anything revelatory about "modern parenting," what I gathered from this book was that everything I feel about this journey of being a mom is normal and I am not alone. What's more, Senior packed the book full of statistics, studies and expert opinion to explain why I love my children yet feel unsatisfied by "just being a mom," and why just when I think I know what I'm doing, society goes and pulls a fast one that makes me question everything I've established as a good parenting practice. And she does a really good job reviewing childhood development – from toddlers to the teen years – to remind us why, even biologically our kids are meant to frustrate, aggravate and bewilder us. (Completely unrelated, I just discovered the Renegade Mothering website where blogger Janelle Hanchett does a wonderful job, with a lot of cuss words, reminding the rest of us that our darkest thoughts about parenting and family life are totally normal.) Best of all, she reminds us that parenting wasn't even a verb before 1970. Ponder that for a second.
What Senior doesn't do – and to be fair she never said she would – is explore how different cultural / ethnic communities vary in their approach to parenting. She mentions Amy Chua and Tiger Parenting and profiles a couple of African-American families, but I would have loved it if she could have explored a little more how the added element of being a different race or from a different cultural background than middle-class White America, plays into the parenting paradox. But like I said, that wasn't in her stated mission so I cannot fault her for not going there. Suffice it to say, I enjoyed reading the book from cover to cover and I appreciate Senior and others like Andrew Solomon, the author of Far From the Tree, who are really exploring the American family as a way to understand American culture. I hope to be a part of that same conversation with my new book, Same Family, Different Colors – coming soon (I hope.) in 2016.
Next up on my reading list? Yesterday I bought Cutting for Stone by Abraham Verghese and I'm only 15 pages in, but I'm loving it.
What are you reading dear readers? Got anything good to recommend? I'm listening and taking notes.
Peace!