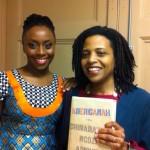 Hello Meltingpot Readers,
I think all of you know that I'm a huge Chimamanda Adichie fan, especially after having the chance to meet her in person last year while she was in Philly for a reading from her latest novel, Americanah. And truth be told, I love her as much as I love her books.
So, of course I was only too thrilled to see that I don't have to wait for her next book to be released to satisfy my craving for new content from her. She's started a blog, or rather, the main character from Americnah, Ifemelu started a blog, The Small Redemptions of Lagos. Written by Adichie, but in the voice/character of Ifemelu, the blog is a continuation of where Americanah left off and covers contemporary issues in Nigeria today, like the Ebola virus. It's really a cool concept. I suggest you check it out if you're as much of an Adichie fangirl as I am.
Let me know what you think. I'm so listening.
Peace!
P.S. Did you know Lupita Nyong'o is reportedly turning Americanah into a film in which she will star? Be still my brown girl heart.!