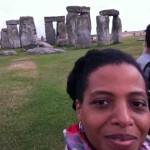 Hello Meltingpot Readers,
I'm baaack!! I hope you didn't miss me too much. I missed you. Really I did. And I missed having an outlet for all of my crazy discoveries, opinions and cultural critiques that only you, my devoted readers would care to hear about. So, I'm picking up my proverbial pen and getting back to blogging.
This year –yes, I still think of the year starting in September — is going to be crazy busy for me. I'm working on my book manuscript for Same Family, Different Colors, teaching two new classes, getting ready to go up for tenure and of course, still playing mommy to my three kiddos. Can you believe I'm the mother of a teen, a toddler, and a ten-year-old who's just stuck in the middle? It makes for some good stories, which, of course, I'll be sharing here. And speaking of sharing, here's when you can tune in for updates here on The Meltingpot.
I've created a very strict schedule for myself in order to get through my to-do list for the year and for the first time I'm going to try blogging at the end of the day. This may make for some blog posts that are riddled with grammatical errors and an overwhelming sense of despair, but that's when I could fit it in, so we'll see how it goes. Expect fresh posts on Monday and Wednesday nights, or just tune in on Tuesday and Thursday mornings.
BTW, my summer in London was really great and my final week in Portugal was magical. I feel like it all happened ages ago, but really I only got back to the United States 2.5 weeks ago. The best part was seeing what great travelers my kids were. Three countries in seven weeks and they loved the whole adventure. Sadly, el esposo is scheduled for surgery (minor sports injury stuff that he's put off for years) for next summer, so the only traveling we'll be doing is back and forth to the physical therapist's office. Spring break looks good though!
Thanks for coming back to the Meltingpot! Did anyone else do anything splendid this summer? I'm listening.
Peace!