Hi Meltingpot Readers,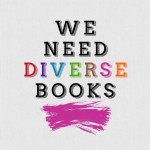 Have you seen the social media campaign advocating for children's literature with more diverse characters? While I've known since forever that colored folks are woefully underrepresented in kiddie lit, including YA fiction, it seems that the rest of the world is now taking notice as well. Better late than never, right?
Here's a recap of how the #WeNeedDiverseBooks campaign started from the Los Angeles Times. And here's an article from Entertainment Weekly that I am quoted in that was written after award-winning author, Walter Dean Myers penned a New York Times Op-Ed about the pathetic number of books for children that feature characters of color.
I'm happy that this issue is capturing the attention of so many, including the mainstream media, but one thing I think we've forgotten to do is highlight all of the great books already out there that do feature characters that look like me and my kids and my friends. Not to mention, the stellar authors who have made this their life work. In all of this protest, we should also be celebrating the great books and authors already on the scene.
So, dear readers, what are some of your favorite books for kids -– big kids or little kids — that feature non-White characters? I'm listening and taking notes. And if you don't already, follow me on Twitter where I'll be tweeting some of my favorite kids' books, and maybe some of yours, throughout the month of May.
Peace!