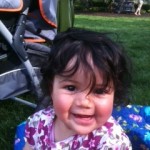 Hi Meltingpot Readers,
In a few weeks I am going to have a big, exciting announcement to make. It's about my writing life, so don't think I'm going to tell you all the sex of my unborn child. That train has long left the station. In the meantime, I'll give you a clue by linking back to this post I wrote in 2012 about that pesky situation of being mistaken for your child's caregiver when you don't look like your offspring, biological or adopted. It's maddening. And it doesn't only affect women of color. Here's a snippet of what I wrote:
" Get a group of women together who have children that don't look like them and we can tell all kinds of hilarious stories, besting one another with the more outrageous comments people have thrown our way. And truth be told, sometimes they are funny. But a lot of times, those comments hurt. They hurt in a way I never expected. It's not because I feel so insulted to be mistaken for a nanny. And it's not even because I think people are being small-minded or insensitive by questioning my child's parentage. At the end of the day, it hurts because there's something visceral, I think, about wanting to see something of yourself in your offspring. It's that simple and that complicated.
I have never been told, 'gee your kids look just like you.' And it's not something I ever dreamed about hearing either. I'd rather hear, 'gee your kids sure are smart/talented/healthy.' But to be told over and over, your kids look nothing like you? Aye, there's the rub. What's more, I think that for women of color to be mistaken for the nanny, the underlying insult comes not from being mistaken for a domestic worker, but for not be respected enough to be mistaken for the mother. Ya dig?"
To read the whole post, you can click here. And stay tuned to The Meltingpot for my big announcement in the coming days.
Peace!