Hi Meltingpot Readers,
Today el esposo and I celebrated 15 years of marriage. Yes, if you do the math, we partied like it was 1999 on April 3, of 1999. Three kids, several transatlantic flights, two houses, two returns to school, one new career and we're still here. Together.
Marriage isn't easy. Parenting isn't easy. Throw in two languages, two different cultures. Two very different personalities and you begin to understand this Kinky Gazpacho life of ours. It's not always fun and sometimes it's really, really hard, but, dear readers, I can honestly say el esposo still makes me laugh and I still think he's cute and he's still my best friend.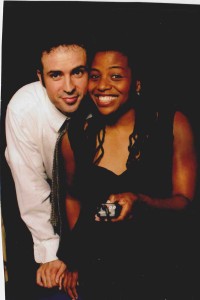 Since it is our 15th anniversary, we're actually going to celebrate, something we haven't done since our first anniversary, when we went to Portugal. This year, I think we're just going to go to the movies. We haven't done that in years either. The last movie we saw together, I believe, involved a talking zebra and some circus animals.
What would you do to celebrate 15 years of marriage? Get a tattoo? Open a bottle of champagne? We're not celebrating until Saturday, so send me your ideas. I'm listening.
Peace!