Hi Meltingpot Readers,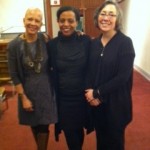 Last Thursday I had the wonderful opportunity to do a reading here in Philadelphia with the amazing Sheila Bridges. She is a well-known interior designer, TV personality and author. We were on a panel together where she spoke about her memoir The Bald Mermaid and I was reading from Hair Story: Untangling the Roots of Black Hair in America. The irony wasn't lost on anyone that I was pontificating on the deep-seeded cultural and historical significance of our hair while Sheila was sharing her journey with alopecia, a journey that she ultimately conquered when she realized "it was just hair" and she decided to go proudly bald.
Even though I was on the panel with Bridges, I spent the evening enraptured by her style and story. I think she made everyone in the audience feel a little bit empowered to face our greatest fears and quite possibly find the courage to shrug them off. As one woman in the audience said during the Q&A, "You're going to make going bald a cool trend." I'm not sure about that, but I think she gave everyone a new and exciting version of what beauty looks like.
Even though I did write the book, at the end of the day, when it comes to our true essence, I have to believe that it is "just hair."
What do you think? I'm listening and taking notes.
Peace!