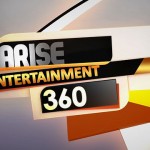 Hi Meltingpot Readers,
Earlier this week, my co-author and I had the privilege of appearing on Arise360 to talk about Hair Story. What? You've never heard of Arise360? Well, then you heard it here first but don't think it will be the last time. Arise360 is a daily entertainment and culture show on the new Arise Network which launched in early 2013. In Europe and Africa, the channel is available on cable. Here in the United States, you have to watch online. Yes, people, an entire new network was launched and sadly not a lot of people are aware of it. But I've been told by a little birdie that that's about to change.
So, let me give you the 411 so you can be in the know, before the rest of the world. So, Arise is the brainchild of Nigerian media mogul, Nduka Obaigbena. He believed the world was more than ready for a media outlet that covered the world and not just the White and powerful. His products are gorgeous, informative, smart and multi-ethnic. The TV network is just the latest of many initiatives. Every time I page through Arise magazine or watch Arise TV, I am so thrilled that Mr. Obaigbena had the balls, brains and initiative to bring the world what it needs when it comes to fresh voices and colorful perspectives in the public sphere. We need that diversity in our news today more than ever.
Wouldn't you agree? So, how many of you have heard of Arise? What do you think so far?
I'm listening.
Peace!