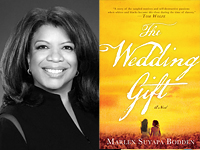 Hi Meltingpot Readers,
Have you heard the buzz about The Wedding Gift? It's seriously one of those great stories of an author self-publishing her work, thousands of people reading it and then a major New York City publisher swoops it up and makes the author a star. That's kind of what happened to Marlen Suyapa Boden and The Wedding Gift.
Bodden is a lawyer in New York City and as the story goes, came across an intriguing historical legal case in Alabama and it got her thinking. What resulted is The Wedding Gift. The story is about a slave girl in 19th century Alabama, who dreams of freedom. Sarah can read and write, she's brave, beautiful and she happens to be the master's daughter. But none of that is very useful on a plantation where 'nobody ever runs and gets away with it.' The book is called The Wedding Gift because Sarah is given to her half-sister – her master's legitimate daughter – as a wedding present upon her betrothal to another wealthy southern planter. Interestingly, the wedding of the title happens more than half way through the book and the story is really more about Sarah's life as she grows up and realizes how constricted, unfair and cruel the life of slave — even a house slave – really is.
The novel is told in alternating chapters between Sarah and the mistress of the house, Theodora Allen, who is a sympathetic character because it quickly becomes obvious that she is as much a prisoner on the plantation as the slaves.
This book has gotten a lot of press and positive blurbs by some impressive people, like Tom Wolfe and Henry Louis Gates, Jr. And I agree that the book is definitely a page turner and I learned a thing or two about popular escape routes from Southern plantations. The reader can't help but get caught up in Sarah's dangerous plans for escape, as well as the soap-opera like scandal rocking the rest of the family. But the writing itself wasn't strong enough to transport me back in time. Considering this is Bodden's first novel, that is to be expected I suppose and I wish her the best of luck on the next book, which I've read she is already working on.
At the end of the day, I'm just happy that books are being written and read that explore and humanize the slave experience. I think the The Wedding Gift does an excellent job of telling an individual story about how one woman challenged our country's greatest evil. Bravo to Bodden for creating a character like Sarah who gives all of us a new literary Black heroine to cheer for and celebrate. There's also a little Kinky Gazpacho twist that I love, but I can't say more about it without giving the ending away. You'll just have to pick up a copy for yourself!
The Wedding Gift debuts officially on September 24, 2013.