Hi Meltingpot Readers,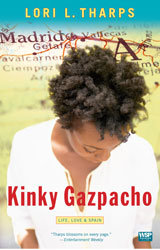 So, I got another update about the progress of Kinky Gazpacho the movie. If you recall from the last time I wrote about it, a Spanish actor had reached out to me to tell me he wanted to play the role of el esposo. Apparently his enthusiasm was a wee bit premature, but the wheels of progress are still turning. There is a director attached, the script is being fine tuned and they are about to cast the role of Lori!!! I can't believe this. So, dear readers, any fresh ideas about who should play the role of a Black 22-year-old grad student who travels around Spain and discovers something about herself and falls in love with both the country and a hunky Spanish dude?
This time, I'm listening and so are the producers.
Peace!