Hi Meltingpot Readers,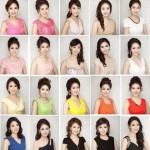 It's no secret that women are hard on themselves when it comes to beauty rituals. In almost every known culture women are judged on their appearance first and their other attributes — intelligence, strength, moral character — second and a distant third. So, we primp and diet and spend oodles money on bottles of miracle potions, creams and lotions. We pay other women to buff our nails and strip the dead skin off of our feet. We suffer through hot wax being poured on our nether regions and try not to cry when we yank stray hairs from our eyebrows. No doubt about it, beauty hurts.
As a Black woman, I know beauty can hurt even more when it comes to our hair. Whether it is the chemical burn from a no-lye relaxer or the throbbing headache from a head full of braids meant to last for months at a time, we will suffer for beauty. And I'm sure every other culture has their 'thing' they do for beauty despite the pain –physical or economic. But dear readers, I was flabbergasted when I read this article in the Atlantic about Korean and Korean-American women willingly getting their jaws broken all in the name of beauty. The reporter writes, " This surgery is popular amongst young Korean pop stars, who have their faces reshaped to give them elfin, anime-like appearances. The V-line shape gives the face a certain fragility." 
But it's not just pop stars opting for this painful and expensive surgery. Korean women and young teens are adding this new surgical option to a long list of other cosmetic procedures — eyelid surgery, nose jobs, — in the name of enhancing their beauty. While most Korean women claim the ideal beauty they are trying to achieve is not an imitation of White Europeans, it most certainly is a rejection of the beauty they were born with.
Given the almost wholesale acceptance of all of these cosmetic procedures in Korea and in the Korean-American community, I would call this a cultural catastrophe. This is so sad on an epic scale. How is it that an entire people has come to disavow their god-given beauty so completely? I'm just wondering if there is a backlash? A natural beauty movement somewhere within the Korean community. A #hashtag at the very least, urging Korean women to #staynatural.
Do I have any Korean Meltingpot readers who would like to weigh in? Clearly one Atlantic article can't cover it all, so tell us more. I am so listening.
Peace!