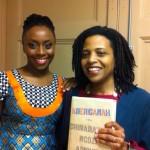 Hi Meltingpot Readers,
If you follow me on twitter, then you know I've been gushing about my new author crush, Chimamanda Ngozi Adichie. I even love the lyrical sound of her name. I just finished reading her brand spanking new novel, Americanah and then had the pleasure of introducing her when she came to speak to a packed house at the Free Library of Philadelphia on Tuesday night.
The book is so good. I mean, it's really good. But it's not just any old good book. It's meltingpot made in heaven. Americanah is a love story, but it's also an exploration of race and culture in the United States and abroad. The characters are original and unique and yet comfortably familiar. The setting hops from East Coast United States to Lagos, Nigeria to London. The writing is sharp and funny and incredibly insightful. And the best part is, the book pays a lot of attention to Black hair politics, both here and in Nigeria.  Did I mention I loved this book? All 477 pages of it.
If you generally enjoy the books I recommend here on the Meltingpot, then I guarantee you'll enjoy Americanah. But if you'd like a more nuanced and critical review, check The Guardian or NPR.
Me, I'm now going back and reading Adichie's earlier works, starting with her award-winning short story collection, The Thing Around Your Neck. Oh, how I love falling in love with the written word.
Are any of you Adichie fans? What's your favorite book? Have you watched her TED talk about the Danger of a Single Story? It's just one more reason why I think she's marvelous.
That is all.
Peace!