Hi Meltingpot Readers,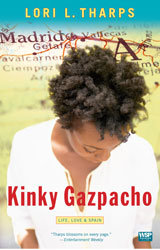 So, yesterday morning when I checked my inbox, I had an email from this wonderful Spanish actor who said he really wanted to play the part of el esposo in the movie version of Kinky Gazpacho!
Dear readers, do you remember some time ago, a couple of years at least, I mentioned that the movie rights for Kinky Gazpacho had been optioned by a fabulous, Canadian indie film producer? While I was extremely flattered and honored, I understand the movie business enough to know that the likelihood of someone turning my life story into a movie that other people would pay money to see seemed highly unlikely. But still, I signed those papers rights away and wished her good luck and pretty much forgot about it. Every now and again, I check in with her and she gives me updates and those updates sound nice,  but nothing like, Gabrielle Union has been contracted to play you in the film. So, life goes on.
Then yesterday, this delightful Spanish man sends me this email and I come to find out that while there is still a long way to go with making Kinky Gazpacho the movie a reality, things are actually happening. It's happening! There is a script — a script that only loosely uses my real life and is mostly fictional — and a director and producers in Spain and a whole bunch of other stuff that movies need in order to get born into the world.
I am completely out of the loop and have nothing to do with the film, but how cool is this? And of course I really want to know, who plays me? Any suggestions, dear readers?
I am so listening. And if you'd actually pay money to watch Kinky Gazpacho, a movie about a young Black American woman finding herself and love in Spain,  leave a comment here so potential investors/producers understand they're investing in something with a built-in audience. I wrote the book and I want to see it!
That is all.
Peace!