Hi Meltingpot Readers,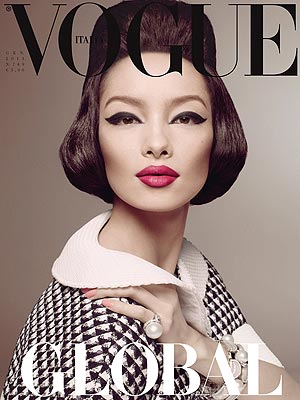 Did you know fashion history was made at the beginning of the month when Italian Vogue put Chinese model, Fei Fei Sun on the cover of their January issue? This is the first time Italian Vogue has ever featured an Asian cover model. Now, you might be thinking, Italy isn't exactly a bastion of Asian pride, what gives? But that's the thing. Italy isn't teeming with Asian activists or even a large Asian population, yet Italian Vogue has an Asian cover model, while British Vogue and US Vogue have NEVER featured an Asian cover model. Something is terribly wrong with that.
Personally, I'm not a big fashionista, nor do I read a lot of fashion magazines, but I do like to see representations of ethnic beauty on the cover of magazines when I'm walking through a bookstore, train station, etc. It's affirming to see beauty defined in more than Anglo images. Luckily, Italian Vogue editor-in-chief Franca Sozzani agrees. She is quoted on People.com:
 "In this world, beauty is king and it's something that brings people together with no national and racial limits…In the images, Fei Fei perfectly embodies a timeless idea of an extremely chic, beautiful woman." 
Remember, Italian Vogue also released the best-selling, bias breaking, in your face,  All Black Vogue edition back in 2008 and created the online Vogue Black and  Vogue Curvy.
Why is Sozzani able to see beauty in different colors while her North American counterparts seem to be stuck on white? Riddle me that. Tell me why in 2013 we're celebrating the first Asian cover model in Italy instead of in the United States? Why are we even having this discussion? How can we still be so exclusionary in our definitions of beauty? Do you have any answers, dear readers. I'm getting all hotted up over this.
You know I'm listening.
Peace!