Hi Meltingpot Readers,
I hope all of you who celebrate Christmas had a joyful and peace filled holiday. Ms. Meltingpot and her Kinky Gazpacho family certainly did. We ate, drank and made merry. I think we actually ate too much. I had plans to cook a fabulous Christmas Eve dinner, but by the time Monday night rolled around, we were so overwhelmed with holiday treats, we had a simple dinner of scrambled eggs and mushrooms. Simple, tasty and delicious.
Here's a shot from our family holiday party table where we consumed every thing from homemade chili and tamales to Caribbean codfish cakes and fried plantains. It was perfectly marvelous and perfectly meltingpot, of course. Wish you could have joined us.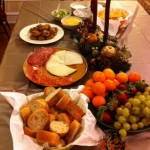 What are some of your favorite holiday dishes? Since my parents are getting older, it's my time to create new food traditions, so I'm always open to suggestions.  You know I'm listening.
Peace!