Hi Meltingpot Readers,
Today is Wednesday so that means I'm sending your hither and yon through cyberspace to read some of the best or worst of what mankind has to offer a week before Christmas. So, let's get to it.
1. Ann Curry, formerly of the Today Show, has decided to DO SOMETHING to honor the 26 people slain in Newtown, CT last week. She decided to perform 26 random acts of kindness and now it's become a movement. Check out the story and some suggestions on how you can get into the spirit. Do you think you'll do this or does it feel too gimmicky already?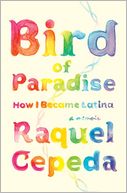 2. As a professional book lover, I sometimes get the great benefit of reading books before they are released to the masses. That was the case with Raquel Cepeda's new memoir/DNA detective story, Bird of Paradise: How I Became Latina. It won't be out until March 2013, but you may want to pre-order now. I know it's tacky to compare Cepeda, a Dominican-American author to Junot Diaz, but there's something about her storytelling — laced with poetry and profanity in the best way possible — that conjures up Diaz. Still, this story, the heartbreaking memoir and the investigation into the racial and ethnic make-up of the Dominican people, is totally original. Trust me, dear readers, you'll love it. Plus, the cover is just too gorgeous to ignore.
3. And finally, dear readers, this wouldn't be the Meltingpot if we didn't get down to some issues of race and identity. And I don't know about you, but the Newtown massacre has some clear racial and cultural issues imbedded in the tragedy. But who wants to bring that up while so many people are grieving? I didn't want to, but that doesn't mean the rest of the world is keeping mum. In my opinion, the only way race plays into this tragic story is the fact that the shooter was White and that the vast majority of gunmen in these horrific mass killings are also White. Does this mean all White men are deranged killers? No. But should we be talking about a profile of a killer? Perhaps. Read this article on Salon.com for a thought-provoking take on the idea.
That's it for now, dear readers. Do you have any links you want me to check out? Send them my way. I'm totally listening.
Peace!